Sunao Tsuboi, a survivor of the Hiroshima atomic bombing who made opposing nuclear weapons the message of his life, including in a meeting with President Obama in 2016, has died. He was 96.
Tsuboi died Oct. 24 in a hospital in Hiroshima in southwestern Japan. According to Nihon Hidankyo (the nationwide organization of survivors of the atomic bomb), Tsuboi died from an irregular heartbeat due to anemia.
During Obama's historic trip to Hiroshima in 2011, Obama and Tsuboi shared a handshake, a joke and a lot of laughter. A translator was available. Tsuboi was a kind and passionate man who recalled trying to speak fast to Obama to say that he would be remembered as having listened to the survivors of the atomic bomb, also known in Japanese as "hibakusha"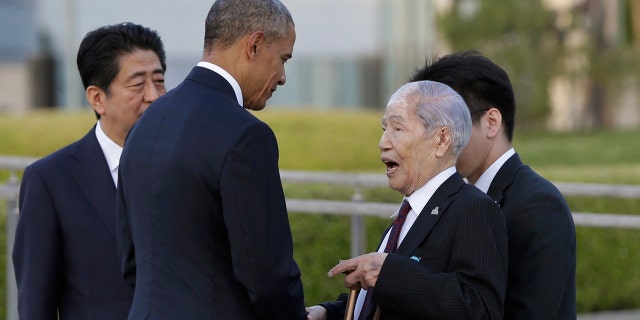 In this photo from May 2016, Sunao Tsuboi, right, a survivor of the 1945 atomic bombing and chairman of the Hiroshima Prefectural Confederation of A-bomb Sufferers Organization, talks with President Obama, center, accompanied by Japanese Prime Minister Shinzo Abe, left, at Hiroshima Peace Memorial Park in Hiroshima, western Japan.
(AP Photo/Carolyn Kaster, File)
JAPAN'S PRINCESS MAKO MARRIES A COMMONER ADN LOSES HER ROYAL STATUS
"I think he is such an earnest person or has the heart to feel for others," Tsuboi said of the first sitting U.S. president to visit Hiroshima.
Tsuboi was 20 years old when he miraculously survived the U.S. atomic bombing of his hometown on Aug. 6, 1945, in the closing days of World War II. He suffered so severe burns that a portion of his left ear had to be removed. When he emerged from unconsciousness 40 days after the bombing, the war was over. Because he was weak and so scarred, he began to crawl on the ground.
" They wanted to kill our children. No mistake about that," Tsuboi said in an interview with The Associated Press in 2013.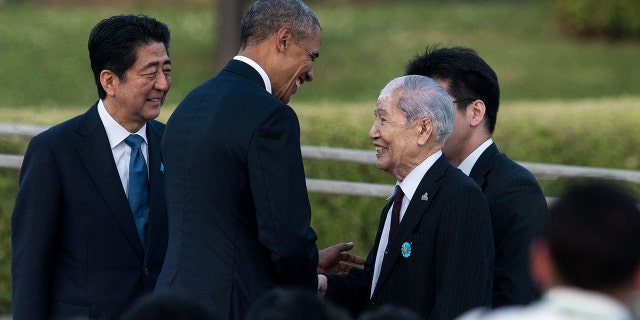 U.S. President Obama (second from left) shakes hands with Sunao Tsuboi, a survivor of the atomic bombing of Hiroshima, as Japanese Prime Minister Shinzo Abe (left) looks on at the Hiroshima Peace Memorial park cenotaph in Hiroshima in May 2016.
(JOHANNES EISELE/AFP via Getty Images)
The world's first atomic bomb destroyed Hiroshima, killing 140,000 people instantly and within months. Three days later, the U.S. forces dropped a second nuclear bomb, on Nagasaki, killing another 70,000 people. Japan surrendered on Aug. 15.
Tsuboi stressed the terrible events in Hiroshima.
"Here was the story of annihilation," he said to the AP.
Tsuboi was a teacher in junior high schools. Tsuboi was determined to educate children about anti-nuclear proliferation that he changed his name to "pikadon sensei" (combining "flashboom", an onomatopoeia Japanese term for the bomb, and "teacher")
"Never Give Up" was his signature phrase. This is especially true in his struggle for an end to nuclear weapons.
Akira Kawasaki, of ICAN (the International Campaign to Abolish Nuclear Weapons), a coalition non-governmental organizations said that the loss of his poster child for the fight against nuclear proliferation had left him with "big holes" in his soul.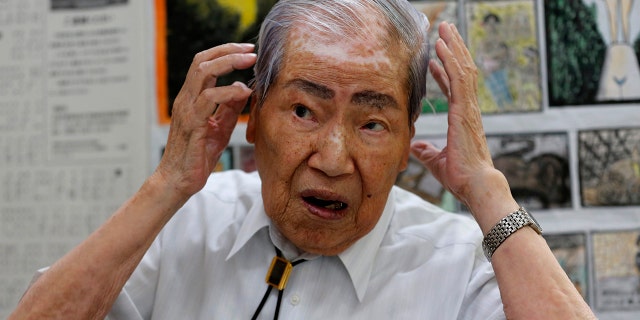 In this photo from August 2013, Sunao Tsuboi, then co-chairperson of Japan Confederation of A-and H-Bomb Sufferers Organizations, speaks during an interview at his office in Hiroshima, western Japan.
(AP Photo/Shizuo Kambayashi, File)
CLICK HERE TO GET THE FOX NEWS APP
"We must not only mourn the death of a great leader for our cause, but we must also continue in his path, undeterred, and always remember his words," he told Japanese public broadcaster NHK TV.
Tsuboi was survived by his two daughters and one son. Tsuboi wanted to maintain low-key ceremonies so a wake and funeral service were organized for his immediate family on Monday and Tuesday. Tsuboi's group remains undecided about a memorial ceremony.