Former Hawaii Rep. Tulsi Gabbard told fellow Democrats Friday they must end their "open-border policy" and "respect" Americans instead of "trying to divide us by the color of our skin. "
"My fellow Dems: if you want people to vote for you, stop calling millions of Americans dogs–only dogs respond to 'dog whistles'," Gabbard tweeted.
" Stop trying to separate us by our skin color," she said. End your open-border policies. Give us the respect that we are Americans and God's children. "
TULSI GABBARD: THE ATTORNEY GENERAL IS WEAPONIZING FEDERAL AGENCIES TO INTIMIDATE AMERICANS INTO COMPLIANCE
Gabbard, a former Democratic presidential candidate, has recently condemned multiple actions by the Biden administration and the Democratic Party, including the rocky withdrawal of American troops from Afghanistan.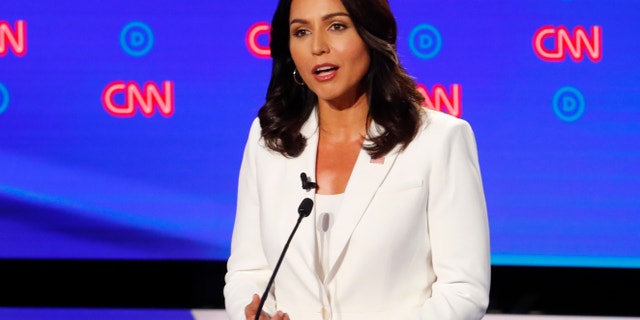 Rep. Tulsi Gabbard, D-Hawaii, speaks during the second of two Democratic presidential primary debates hosted by CNN Wednesday, July 31, 2019, in the Fox Theatre in Detroit.
(AP Photo/Paul Sancya)
Earlier this week, Gabbard suggested Terry McAuliffe's gubernatorial loss in Virginia was a "victory for all Americans" as it was a "rejection of efforts to divide us by race, the stripping of parental rights and arrogant, deaf leaders. "
In October, Gabbard slammed the Biden administration's immigration policies, accusing Department of Homeland Security Secretary Alejandro Mayorkas of boldly lying to Congress.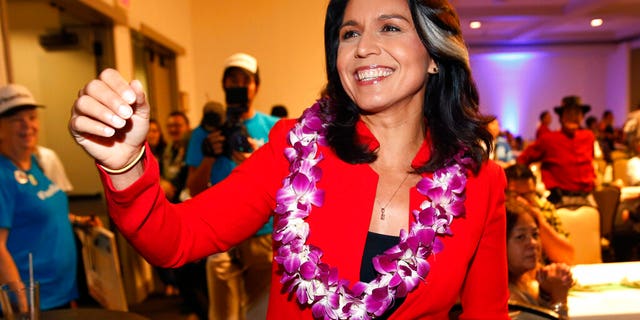 In this Nov. 6, 2018, file photo, Rep. Tulsi Gabbard, D-Hawaii, greets supporters in Honolulu.
(AP Photo/Marco Garcia, File)
CLICK HERE TO GET THE FOX NEWS APP
"The Department of Homeland Security secretary recently told Congress, 'Our borders are secure.' This is what [Mayorkas] said," Gabbard said at the time. According to her, Americans lose faith in their leaders and government when they hear "bold-faced lies" like those being presented by Gabbard.
Fox News' Hannah Grossman contributed to this article.